The Williamsport Lycoming Chamber of Commerce, Lycoming County United Way, and the City of Williamsport officially launched Minutes Matter during the UPMC PM Exchange hosted by Williamsport/Lycoming Chamber of Commerce.
"Now, we're bringing Minutes Matter to the region as UPMC is partnering with the City of Williamsport, Lycoming County, and every community we serve to increase awareness about life-saving interventions for cardiac events, bleeding, and opioid overdoses. We will unite and highlight ongoing community education efforts around these topics," said Patti Jackson-Gehris, president and CEO of UPMC in north central Pa.
Minutes Matter in the Williamsport Community
Have you ever seen what an AED looks like or learned how to apply a tourniquet? Would you know how to help someone who has overdosed? UPMC experts will be onsite at community events and activities throughout Williamsport to help bring visibility to these life-saving interventions, talk more about how important training is, and give people opportunities to see how they could help save a life.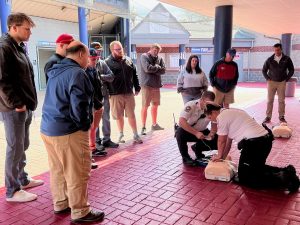 Williamsport Crosscutter staff watch how an AED is used during a Minutes Matter training.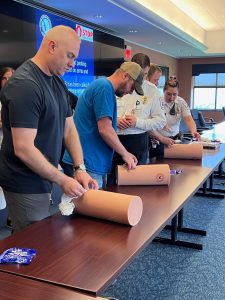 Little League Baseball staff learn how to pack a wound during a Minutes Matter training.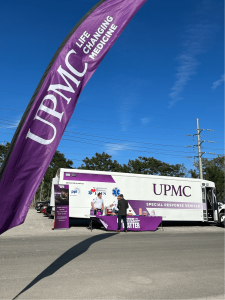 Minutes Matter table at a recent event in Williamsport.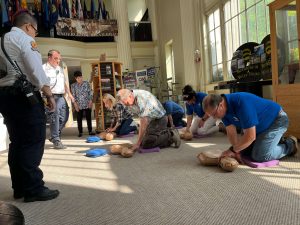 Williamsport/Lycoming County Chamber of Commerce staff learning how to do CPR.